As a Wedding Flower Designer based in Kelowna, BC  we do things a bit differently than a retail flower shop as our focus is fully on designing and creating beautiful flowers for weddings.  Over the past 10 wedding seasons we've created & designed wedding flowers for over 300 incredible clients,  during this time we've been asked the same questions regularly by our clients & potential clients.   We thought a blog post might be helpful in answering some of our most commonly asked questions all in one place!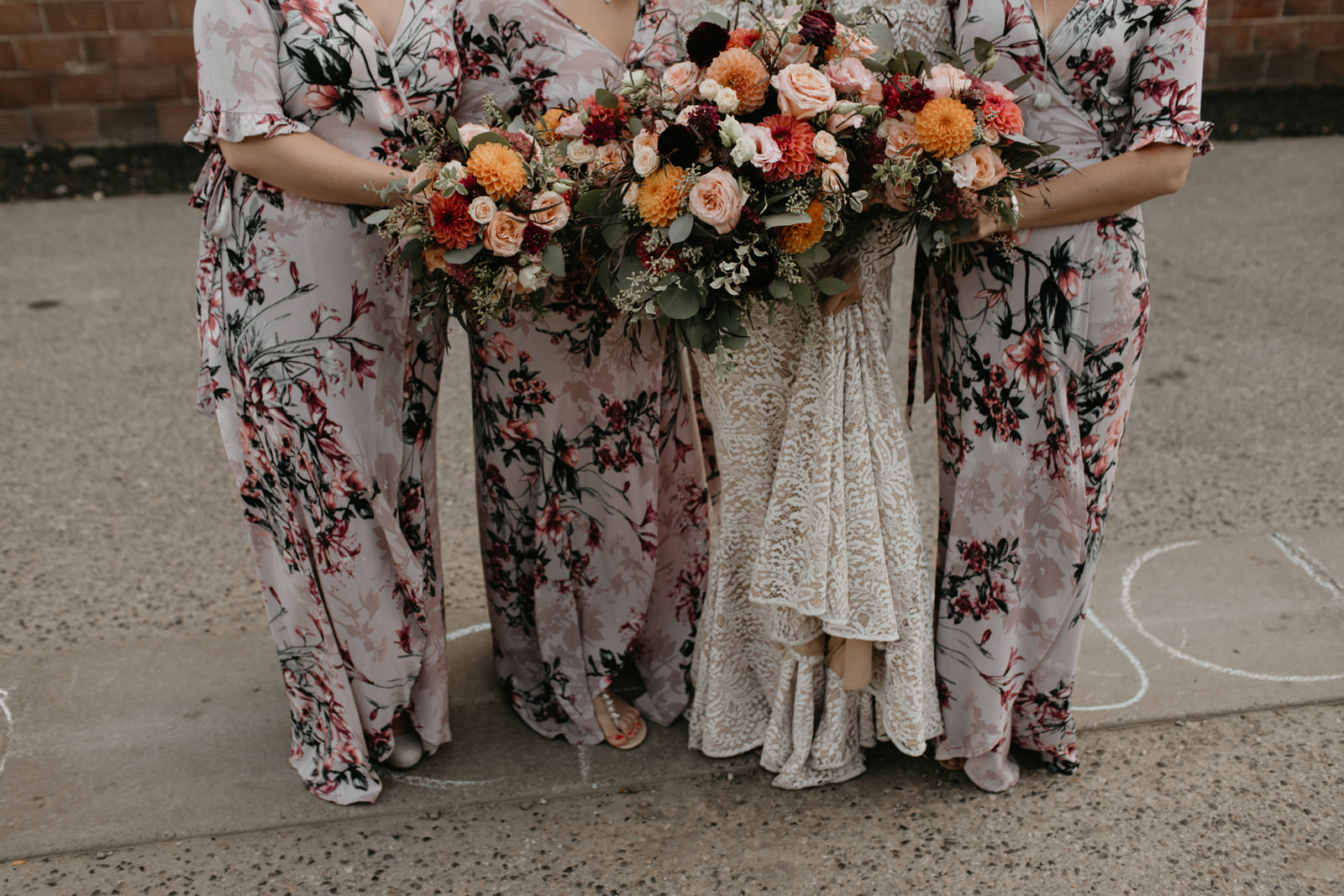 How far out from my wedding should I be booking a floral designer?
– Booking your wedding florist far enough in advance, ensures that you get your chosen designer for your wedding day.  Currently we are booking 9-12 months in advance for our full wedding clients, and 3-6 months for bridal party flower only clients. As our busy wedding season in the Okanagan is from May-September, the weekend dates during these months do tend to book up faster. If you are planning a wedding between October-April, or during a weekday in the peak months less time is required for booking.
Do you have set packages and pricing?
– Everything we create and design is custom for each and every one of our clients, so we do not have set pricing or packages. As every wedding & every couple we work with is unique – we tailor the design concept & overall floral experience to suit you and your wedding.   Set packages and pricing doesn't feel right for us and the service we prefer to provide.
Do you have a minimum order requirement on wedding flower orders?
– We have a suggested $3000.00 minimum on full wedding designs, and $1000.00 minimum on bridal party flowers during our peak season between May-September. However, as not every client and their wedding requirements fit those suggested budgets, if we are the right style & fit for your wedding we are happy to make the exception.
Do you offer free consultations to discuss wedding flower requirements?
–We offer free in person consultations in our Kelowna studio to discuss your wedding flower wants, needs and requirements.  After our meeting we will provide you with a price estimate, at which point you can choose to book with us & dive deeper into a concept, design and detailed quote.
We are planning our wedding from out of town and aren't able to meet in person – how can we get a quote?
-This is not a problem! The majority of our clients are planning their wedding from afar, and so we are very used to doing the consultation process over email and by phone.
How many weddings do you take on per weekend?
– After a few very busy wedding seasons, we now try to limit to one full wedding design per weekend, and occasionally we will do 2-3 smaller wedding designs or bridal party flowers if it works within our schedule. With 10 wedding seasons under our belt, it is most important for us to provide the highest quality product and best service for our clients, and limiting the work we take on per weekend allows this.
Do you sell buckets of greenery & flowers for us to make our own arrangements & designs?
– Unfortunately, as we are not a retail flower shop, we are not able to sell loose flowers and greenery for designing your own arrangements. We want to make sure that everything we provide for your wedding day is perfect, and as stress free as possible and achieve this by providing our full wedding floral services.
What flowers are in season at the the time of my wedding?
-Most varieties of flowers & greenery that we use in our weddings are greenhouse grown in the Lower mainland or world-wide and are available year round, but there are some varieties of flowers that are very seasonal and available only certain times of the year.  One such flower would be the Peony with a local growing season in the Spring between May & June.   Unless you are booking your wedding date around your favourite flower availability, we are happy to suggest flower substitutes for what is in season at the time of your wedding.
Do you have any rentals available for weddings?
-We have a wide selection of high-quality vases & containers in our own inventory that can be used to design your wedding flowers within.    We also have a selection of votive & tea light holders that compliment our vase collections, and clear cylinder vases that are perfect for pillar candles or floating candles.   If you are looking for a specific style vase for your wedding, we can also help source that out for you.
Do you provide Delivery, Setup & Take-down services?
-As we are a full service floral design company we provide delivery & setup for all of our full wedding design clients with optional takedown service at the end of the night – which is particularly helpful when using our rental vases & containers.   We want to limit your stress on your wedding day, so we ensure that every detail of our services are done perfectly & professionally.   For our clients choosing just to order Bridal Party Flowers from us, we offer delivery or they can be picked up from our studio on the morning of the wedding.
What can be done with our flowers after our wedding day?
– There are many charities and non-profit groups within the Okanagan that will happily accept your wedding flowers to be able to keep the flower love going after your wedding day.   Normally our flowers will last up to a week after your wedding with proper care, water & being kept away from direct sunlight.  If you aren't able to keep or share your flowers with friends and loved ones , donating your flowers after is a great option.