Thomas and I are still in 'awe' of the gorgeous florals that you created for our special day! We knew when we picked you to be our florist that they would be stunning yet you still managed to blow us both away! I cannot wait to see the shots of the room from the photographers because those bud vases were so spectacular and really pulled the whole look together! I will be forever grateful that you were a part of our day and knowing that so much love went into creating those beautiful arrangements! 
Thank you again for everything, you contributed in such a huge way to our perfect day! 
Thomas & Kayla Creron –  June 2016

Words cannot express my gratitude for your beautiful work! The flowers were honestly one of my favorite things about the entire day. Your attention to detail while obtaining my every vision & request is something I cannot thank you enough for. One of the things we were most complimented on from the wedding day & photos is all of the flowers!! The alter arrangements as well as my bouquet, just took my breath away. Not to mention the beautiful centerpieces & ceremony aisle flowers!!!!! I thought the colors of the bouquets, ceremony & reception florals just tied together so nicely with the theme colors, bridesmaids dresses & groomsmen suits! Everything was just perfect Christina!
Seriously I can not thank you enough for making my wedding so special with your handcrafted work.
Justin & Haley –  September 2016

Christina took the interest to ask me specific questions regarding my style, theme and desire for my florals for my special event. With a couple of descriptors and answering her question regarding palette, Christina's creation almost brought me to tears. She exceeded my wildest dream even though  I'm well familiar with her breathtaking style.. To me it was bar none the most beautiful arrangement I've ever seen because she interpreted my theme and who I am and gave it back to me in floral form. She is a floral poet, her creations speak love. She is a floral musician, her creations sing love. She is a floral genius and her artful arrangement was a highlight at my event. Book her, you will be beyond thankful you did. She's a master. xx
Jenny Mckinney – Feb 2016

Thank you SO much for the beautiful flowers for our wedding day. I seriously couldn't be happier. The florals were super important to me and you nailed it. You pretty much read my mind and delivered the PERFECT flowers. Everything was stunning and we got so many compliments. 
Thank you again for making our day so beautiful.
Selina & Jeremy – July 2015

Our wedding flowers couldn't have been more perfect,  I wish they would last forever! They were totally tailored to our vision and fit perfectly with the theme of our day.  Christina came with tonnes of unique ideas, aside from just the classic bouquets/table centre pieces, which was refreshing! She also made sure to keep everything within our budget…if I suggested an idea that would go above our budget, she would come back with alternatives that would keep our budget on track which I really appreciated!  She was so professional, easy to work with and made sure absolutely every detail was perfect. 
Brenna & Kyle – August 2015

I can't even begin to describe how great it was to work with Classic Creations leading up to our big day at Summerhill Pyramid Winery. Even though we aren't from Kelowna and had to communicate solely over phone and e-mail, Christina was able to capture my vision for our florals perfectly and within our budget. Everything from the bouquets, to the boutonnières, to the centerpieces were absolutely beautiful – I even made sure that all the arrangements went home with guests as they were just too pretty to go to waste. Without a doubt, I would highly recommend Christina and her team!
– Geralyn & Joey, October 2014

I really do not know a lot about flowers but when I saw Christina's work I knew that I wanted her to do the flowers for my wedding! She took extra time to meet and work with me to determine what I liked and what I did not like, her studio is exceptional in every way and her professionalism is above the rest! When the flowers arrived the morning of my wedding day they exceeded any expectations that I might have had. Everything was just beautiful. I can't say enough what a pleasure the whole experience was. Thank you.
– Amber & Devon, September 2014

I immediately knew I wanted to use Classic Creations when I researched florists in the Okanagan – all of their work is unique and gorgeous. Throughout the process of planning my wedding, Christina was always readily available, whether it was over the phone or through email. The day of my wedding, I walked into the venue and was amazed by the beauty and perfection of each piece. She was able to capture the exact image I had in my head! It was absolutely elegant. The entire team at Classic Creations is extremely talented and can develop the most beautiful pieces. I highly recommend Christina and her team if you are looking for unforgettable wedding flowers with a smooth and easy working relationship. Thank you so much!
– Hannah & Jared, August 2014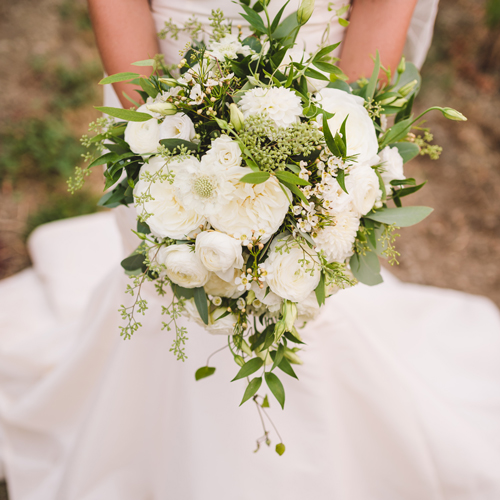 Christina did an amazing job with the flowers for our wedding day! Early in the planning process, while I was looking at different wedding blogs to research venues in the Okanagan, I kept coming across the most gorgeous floral arrangements and quickly realized that all of my favorites were by Classic Creations. Needless to say, I was so excited to work with Christina and she easily met and exceeded my high expectations – everything she created was stunning, exactly what I hoped for and more, and she was such a pleasure to work with. Christina really went above and beyond to create the pieces I envisioned and to make sure everything was perfect on the day. Thank you again, Christina!!
– Lauren & Alex, June 2014
We can't say enough great things about Christina. It was such a joy working with her from start to finish. She's so good at what she does, she just "got us", and knew exactly what we wanted from our first phone call. We were confident that our flowers were going to be stunning (with or without rain) on our wedding day. Stunning they were! We couldn't have imagined a more beautiful day. We absolutely loved our bouquets, and that Christina took the time to design them with subtle differences to suit both Em and I. All of the flower arrangements complimented our surroundings without taking away from its natural beauty. We would love to work with Christina again, and absolutely recommend her to others. Thank you for making our wedding day so memorable!
Kellie & Emilie – August 2015

Working with Christina from Classic Creations was literally the BEST decision I could have made. Christina was recommended to me by our wedding planner, but even if she hadn't have been recommended, Christina would have been  the obvious choice; her gallery of arrangements is breath-taking, and proves that she takes puts immense time and care into creating something special and unique for every client she works with. When we started talking about flowers, I really wasn't sure what I wanted.. but I knew that I loved everything Christina has created! Christina took time to walk me through all of the choices we had available (late night emails and all!), and with what little vision I had, she came up with the most amazing arrangements. I definitely shed a few tears over our beautiful bouquets and the ethereal centrepiece Christina created for our head table. My (now!) husband is no flower expert.. but weeks later we are both still gushing over the amazing florals that Christina created for our wedding! 
A big, big, BIG thank you to you Christina; working with you was so stress-free, and your arrangements were stunning in every possible way – creating such a beautiful tone for our wedding!
Devon & Adrianne – July 2015

As any bride knows (or will shortly find out while planning their wedding), working with vendors for big events can be stressful. You worry whether they 1) understand your vision and 2) if they will produce what they promised you. As she is both organized and detail oriented, she did both. I myself knew very little about flowers and she helped me through the entire process (she's also VERY good at looking at inspiration images and creating pieces to fit any vision or budget). She even took the time to meet with me in person over coffee to fully understand what I wanted for my day. I am confident that if you trust Christina with your floral needs you won't be disappointed. Indeed, the bouquets, boutonnieres and hair pieces she did for my wedding were beautiful and modern, garnering much attention from my guests. Thanks Christina!!!
– Meredith & Ryan, September 2013

Christina,  I just want to thank you so much for the amazing flowers. I didn't really know what to expect. I didn't know what to envision because as you know, I don't know much about flowers. You did an incredible job, I almost cried when I saw them! Everyone looked amazing with their bouquets and boutonnieres. Thanks again, so much! You are so talented!
– Shenaya & Daniel, July 2013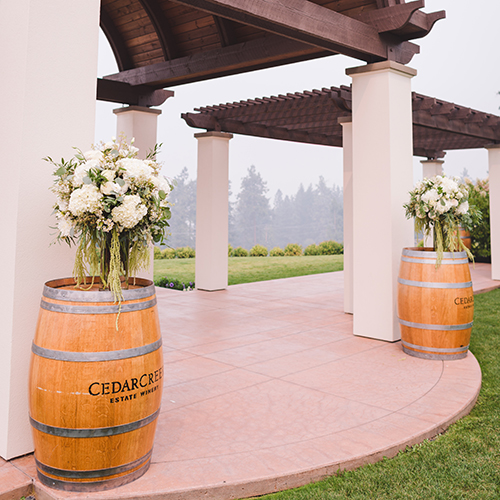 Christina, thank you so much for making such beautiful bouquets and centerpieces for our wedding at Cedar Creek and the Harvest Golf course this summer. We really appreciated your easygoing manner, your patience and your advice in choosing the right combination of floral arrangements that were within our budget while looking like a million bucks. We loved that the arrangements and the bridal party bouquets all looked unique, very unlike the cookie cutter arrangements we've seen in some bridal magazines.  Our guests absolutely loved the flowers and we had more guests requesting to keep the centerpieces than we had to give! We wish you all the very best, and would recommend you highly!
– Juliya & Darryl, June 2013

Classic Creations made my day!!!! Christina and I have never met but she made my wedding flowers exactly how I wanted them. To me, this was an impossible task and made me very nervous as I am a bride who controlled every last detail.  The colours and the types of flowers she chose to use were spot on. I was very nervous creating these arrangements and bouquets over the phone and in the end Classic Creations exceeded my expectations. I would recommend Classic Creations to anyone who is looking for professional service with stunning results. Thank you again to Christina for making my day even more beautiful than I ever thought possible with your amazing flowers.
– Gillian & Max, June 2013

Thank you so much for the beautiful flowers, they were perfect!  The wedding went smoothly, even the weather came through for us with the sunshine.  The flowers really brought everything together, for the ceremony and on the dinner table.
– Hiromi & Brian, May 2013

Christina is hands down the most talented florist I have ever come across. She is a delight to work with, is incredibly knowledgeable and brought all the ideas and visions I had for our wedding to life plus added extra special touches beyond my expectations. We still receive compliments on our flowers months after our wedding and I love looking back at our pictures to see how beautifully everything turned out. I cannot thank you enough for all of your hard work and expertise. Our day was everything we could have hoped for and more.
– Jennifer Neufeld, September 2012