Classic Creations Floral Design
Located in the heart of the sunny Okanagan Valley, we are your source for high quality, unique, custom floral designs. Whether you are planning an intimate romantic wedding or a large gala event, no occasion is too big or too small for us. All of our floral arrangements are designed especially for you. If you have a vision - we can help make it come true.
Contact us for a complimentary intial consultation.
This year at Classic Creations!
We have had such a great year, working with wonderful couples and beautiful flowers. We have also been very fortunate to have had our work featured in many publications. Here are just a few highlights

Earlier this year my brother was married and I was fortunate to not only create their wedding flowers but also to be part of the wedding. Their amazing photographer was
Teryn Lee Photography in Vancouver.

Jessica & Jordan's Summerhill wedding by Kevin Trowbridge Photography. Take a look here for inspiration! Wow..
I loved creating all these pieces and LOVE seeing the images.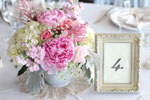 We worked on a beautiful vintage inspired - Jane Austen theme wedding. This was amazing collaboration with Vintage Origami.
This was so beautiful and so much fun to put together, lots of soft pretty colours.


We are so excited to share this one! Tess and Darcy's GORGEOUS May wedding at Summerhill has been featured on Style Me Pretty Canada!
I really enjoyed creating the flowers for this one, and LOVED how Tess' vision for her day all came together.